QT Magazine Q&A - Passive Architecture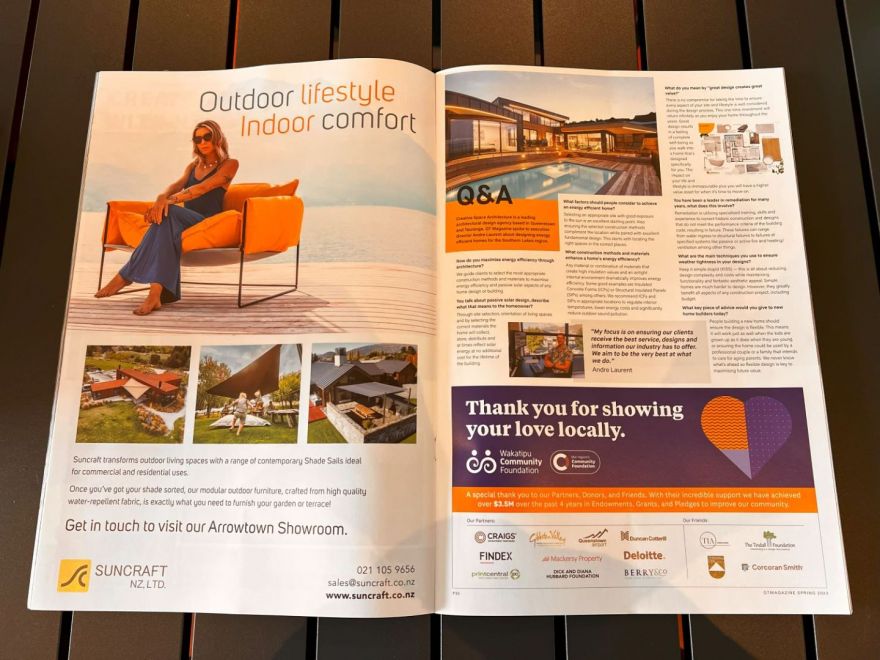 QT Magazine Q&A - Passive Architecture
Creative Space Architecture is a leading architectural design agency based in Queenstown and Tauranga. Executive director Andre Laurent talked to QT Magazine about designing energy efficient homes for the Southern Lakes region.
How do you maximise energy efficiency through architecture?
We guide clients to select the most appropriate construction methods and materials to maximise energy efficiency and passive solar aspects of any home design or building.
You talk about passive solar design, describe what that means to the homeowner?
Through good site selection,orientation of living spaces and by selecting the correct materials the home will collect, store and distribute and at times reflect solar energy at no additional cost for the lifetime of the building.
What factors should people consider to achieve an energy efficient home?
Selecting an appropriate site with good exposure to the sun is an excellent starting point. Also ensuring the selected construction methods complement the location while paired with excellent fundamental
design — this starts with locating the right spaces in the correct places.
What construction methods and materials enhance a home's energy efficiency?
Any material or combination of materials that create high insulation values and an airtight internal environment dramatically improves energy efficiewny. Some good examples are Insulated Concrete Forms (ICFs) or Structural Insulated Panels (SIPs) among others. We recommend ICFs and SIPs in appropriate locations to regulate interior temperatures, lower energy costs and significantly reduce outdoor sound pollution.
What do you mean by "great design creates great value"?
There is no compromise for taking the time required to ensure every aspect of your site and lifestyle is well considered during the design process. This one-time investment will return infinitely as you enjoy your home throughout the years. Great design results in a feeling of complete well-being as you walk into a home that's designed specifically for you. The impact on your life and lifestyle is immeasurable plus you will have a higher value asset for when it's time to move on.
You have been a leader in remediation for many years, what does this involve?
Remediation is utilising specialised training, skills and experience to correct historic construction and designs that do not meet the performance criteria of the building code resulting in failure. These failures can range from water ingress, to structural failures to failures of specified systems like passive or active fire and heating/ventilation among other things.
What are the main techniques you use to ensure weather tightness in your designs?
Keep it simple stupid (KISS) — this is all about reducing design complexity and costs while maintaining functionality and fantastic aesthetic appeal. Simple homes are much harder to design. However, they greatly benefit all aspects of any construction project, including budget.
What key piece of advice would you give to new home builders today?
People building a new home should ensure the design is flexible. This means it will work just as well when the kids are grown up as it does when they are young or ensuring the home could be used by a professional couple or a family that intends to care for aging parents. We never know what's ahead so flexible design is key to maximising future value.